Spicy and sweet Pineapple Chutney, perfect to serve over meat, pizza, or as an exotic cream cheese topping to serve with crackers.
The Story Behind This Pineapple Chutney Recipe
In a recent post, I mentioned my friend, Kelly, who challenged me to duplicate her favorite Balsamic Vinegar Glaze. What I didn't expand on is that she also wanted me to duplicate another product; her favorite pineapple chutney.
This chutney is used as a pizza topping at a local pizza restaurant called Fire and Slice in Eureka, Montana. It's taken me a while to get around to it, but it's finally here!
This chutney is much spicier than the one used at Fire and Slice. While they most likely use Anaheim chilis, I went straight for the habaneros, which are my husband, Scott's favorite. Of course, you can substitute Anaheim chilis or slightly spicier peppers like jalapeños or Serranos.
What is Chutney Made of?
Chutney is an Indian savory or sometimes spicy condiment that's prepared with a mixture of any of the following ingredients: fruits, vegetables, herbs, tamarind, chilis, and spices. Some common chutney flavors include mango, mint, onion, apple, tomato, and peach.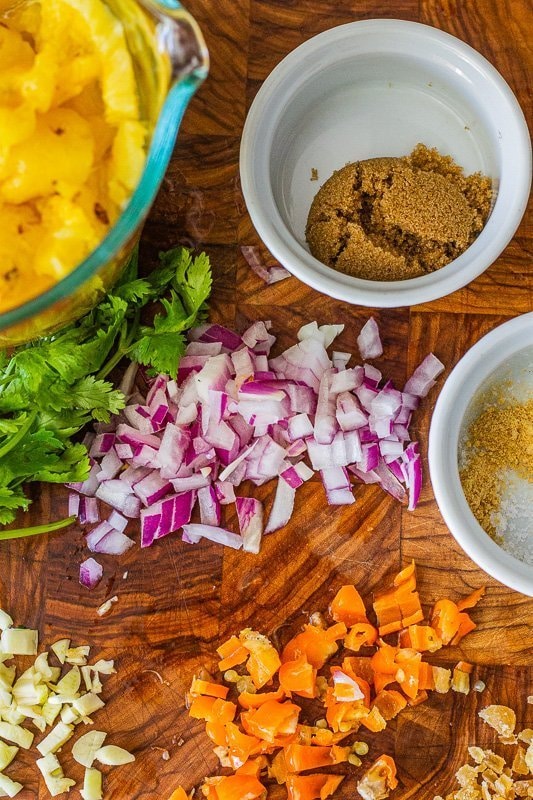 Chutney texture varies from chunky to diluted. They can be prepared with fresh fruits or veggies, similar to salsa. However, more often, chutney is cooked down with sugar and vinegar, forming a delicious syrupy glaze.
What to serve with Pineapple Chutney
In Indian cuisine, chutney is served with curries, meats, samosas, and over rice. But let's not stop there. Just yesterday, I mixed some of this pineapple chutney with Scott's Coleslaw Salad and added some grilled and chopped chicken. He absolutely loved it!
Another idea is to pulse the chutney with cream cheese to make a cheese spread that can be served with crackers. Or spread some on your favorite sandwich or grilled cheese.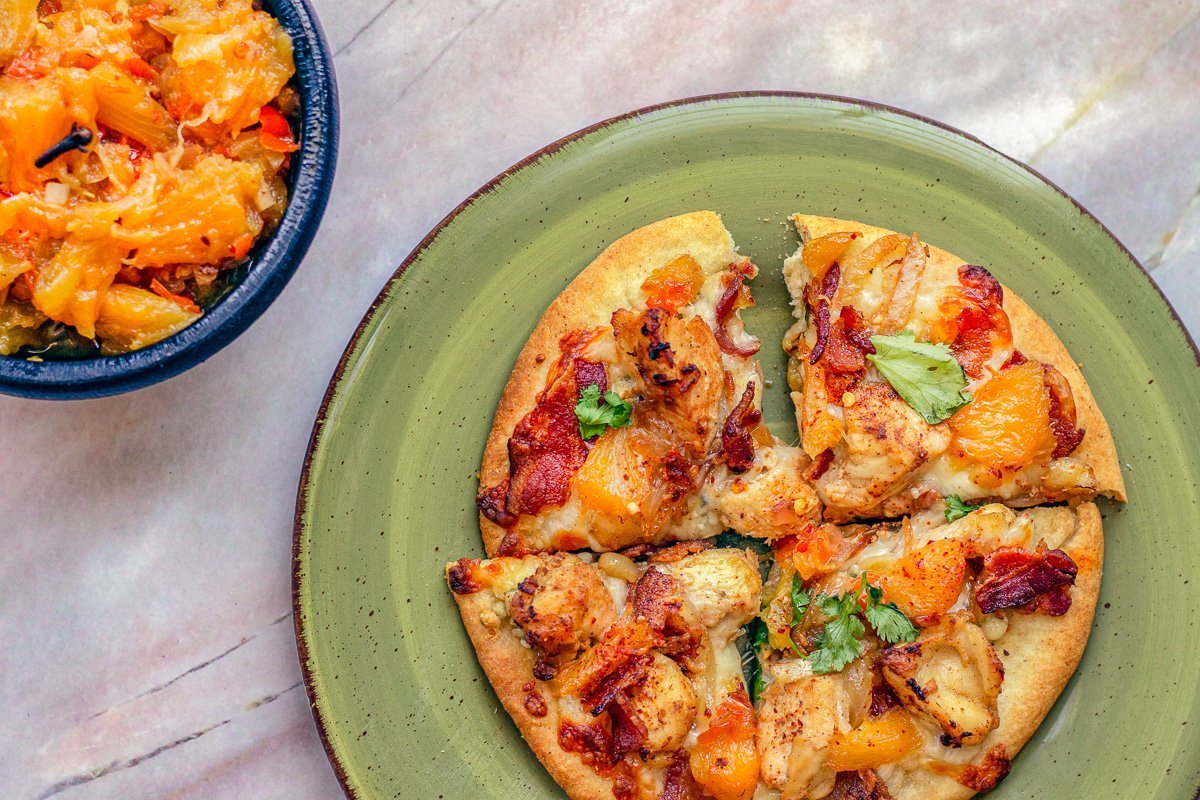 But wait, I'm not done! What if in place of ketchup, you slather some chutney on your burger? Or load some on your pizza and stir some in your pasta? See how easy it is? Now it's your turn, how will you use this chutney?
Is Chutney the Same as Relish?
Chutney and relish are very similar but not exactly the same. Relish is usually made with chopped or minced pickled vegetables, like cucumbers, for example. Chutney, on the other hand, is usually made with fruit, a form of sweetener, and is heavily spiced.
The spice comes in the form of various spices like curry, cloves, cardamom, and allspice. Then there's the heat, which is achieved by adding spicy chili peppers and pepper flakes. I add both, but if you want to make a milder version, you have my blessing!
Another difference between relish and chutney is that chutney is cooked for a longer period. This longer cooking time helps the mixture to reduce and thicken, similar to making jam, or a fruit reduction.
Is Chutney Served Hot or Cold?
Repeat after me, there are no rules when it comes to food, although your mom or grandma might disagree. My mom, for instance, had all kinds of rules about what was acceptable and what wasn't when it came to cooking.
Chutney, however, is quite versatile. Like jam, it can be served cold. As a dipping sauce, for example. Or it can be served hot over grilled meats. You can also serve it warm over cream cheese or even better, goat cheese. You're the boss in your kitchen, so don't let rules stop you; Now go create!
STAY IN TOUCH WITH ME THROUGH SOCIAL MEDIA!
Tried this recipe? Snap a picture and tag #hildaskitchenblog on Instagram. 
Like my page on Facebook.
Do you Pinterest? Pin & share this recipe!
You may also enjoy the following recipes: Balsamic Vinegar Glaze, Vietnamese Spring Rolls, Tahini Sauce, and Honey Mustard Sauce.
Pineapple and Habanero Chutney
Spicy and sweet pineapple habanero chutney, the perfect complement to meats, curry, rice and more!
Print
Pin
Rate
Ingredients
1

tsp.

olive oil

⅓

cup

red onion

(diced)

2

habanero peppers (or milder chilis)

(diced)

2

cloves

garlic

(minced)

2

cups

fresh pineapple

(chopped)

2

slices

candied ginger (or 2 tsp. minced fresh ginger)

¼

cup

pineapple juice

(drained from pineapple)

¼

tsp.

salt

¼

tsp.

ginger powder

2

T.

white wine vinegar

1

tsp.

lemon juice

1

tsp.

crushed red pepper

4

whole cloves
Instructions
Saute onion in oil for a few minutes, then add peppers and garlic. Saute an additional minute or so.

Add the remaining ingredients and mix to combine.

Simmer, over low heat for approximately 20 minutes, or until chutney reaches the desired consistency.

Store in two 8 oz. jars or in one pint-sized jar.

If you don't plan on storing the chutney in the fridge, be sure to sterilze the jars before filling and process in boiling water for 10 minutes after filling.
Nutrition
Serving:
2
T.
|
Calories:
22
kcal
|
Carbohydrates:
5
g
|
Protein:
0
g
|
Fat:
0
g
|
Saturated Fat:
0
g
|
Sodium:
37
mg
|
Fiber:
0
g
|
Sugar:
3
g
Stay in touch with me on Facebook, Pinterest, and Instagram for the latest updates!
If you make this recipe, be sure to snap a photo and to tag me in it!