This Vietnamese Spring Rolls recipe is authentic, healthy, and absolutely delicious! The spring rolls are relatively easy to prepare, once you get the hang of it. If you do mess up on the first few rolls, just eat the evidence. Shhh, no one needs to know. 😉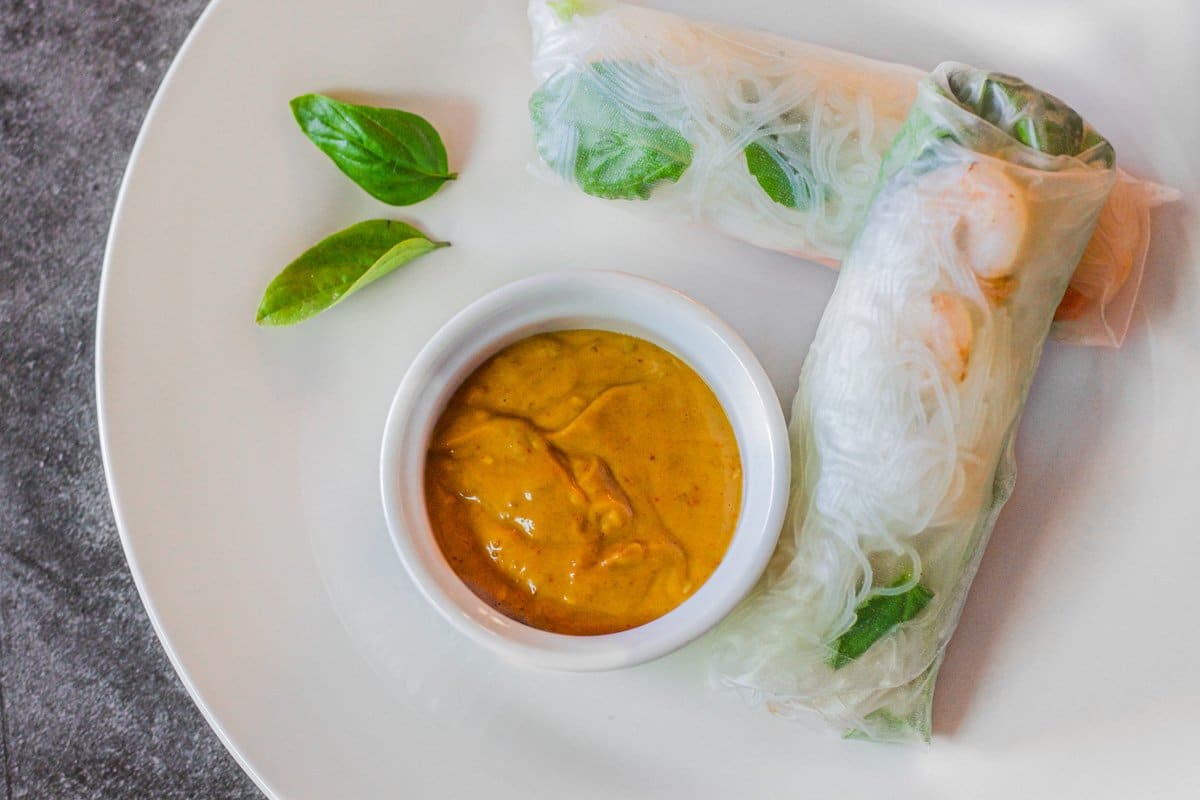 The Story Behind this Vietnamese Spring Rolls Recipe
Back in 2013, my friend, Amy, who is Vietnamese, and I spent a fun day of cooking together. Amy came over to show me how to prepare a few Vietnamese dishes. This fantastic Vietnamese Spring Rolls recipe is one of the recipes Amy shared with me.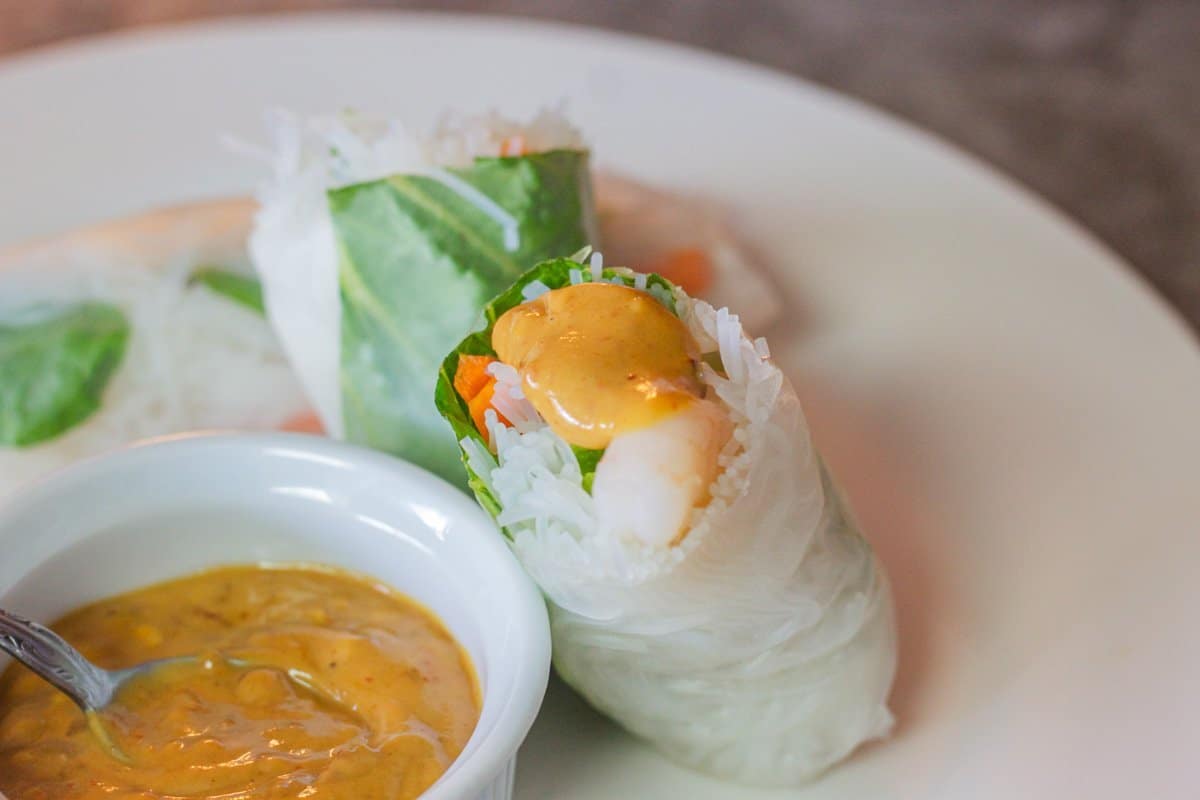 Amy brought with her a truck-load of ingredients, not only to make these spring rolls, but also to prepare a delicious stir-fry, and pho, from scratch! Trust me, we ate like kings, I mean queens, that day.
I treasure that memory with my dear friend, Amy, who I don't get to see too often these days. I think of her and smile every time I prepare this Vietnamese Spring Rolls recipe.
Can you make this Vietnamese Spring Rolls Recipe Ahead of Time?
Although Vietnamese Spring Rolls can be made ahead of time, they are definitely better when served shortly after preparing. The rice paper tends to toughen up over time. However, if you absolutely need to make them ahead of time, you can do so up to 24 hours prior to serving them.
Once prepared, roll each spring roll tightly in plastic wrap and refrigerate until ready to serve. When it's time to serve, unwrap the spring rolls and wipe with a damp paper towel, if needed. This refreshes the spring rolls and ensures the rice paper maintains the proper texture.
Vietnamese Spring Rolls Recipe Ingredients
Amy's Vietnamese Spring Rolls require just a few unique ingredients that might be a little harder to come by for some of my readers. For example, my friends in Trego, Montana.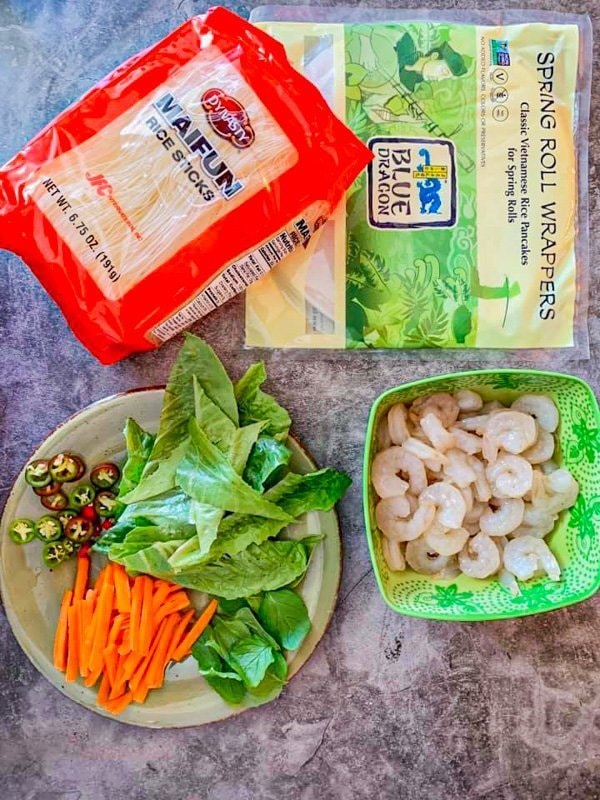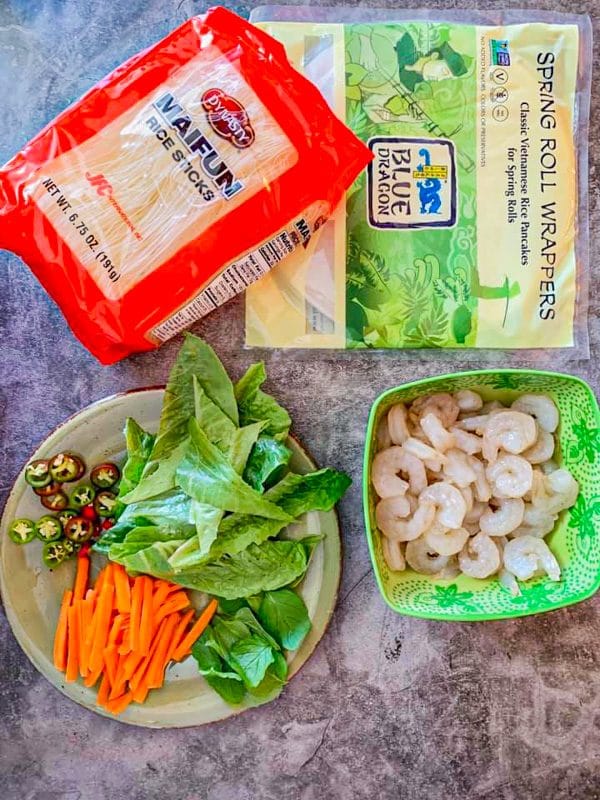 Luckily, Amazon exists and has exactly what we all can't live without! The ingredients I'm referring to are rice paper and rice noodles. The remaining ingredient options should be easy enough to obtain. The recipe card on the bottom of the post has the specific ingredients list.
Spring Rolls Ingredient Options
Protein in the form of shrimp, chicken, steak, or tofu
Lettuce (butter lettuce if possible, which is soft and easy to roll up) or Romaine
Baby spinach
Vegetables, including carrots, cucumbers, avocado, bell pepper, celery, and scallions.
Herbs (mint, basil, cilantro, and dill)
Heat (Serranos, jalapeños, or habaneros if you dare)!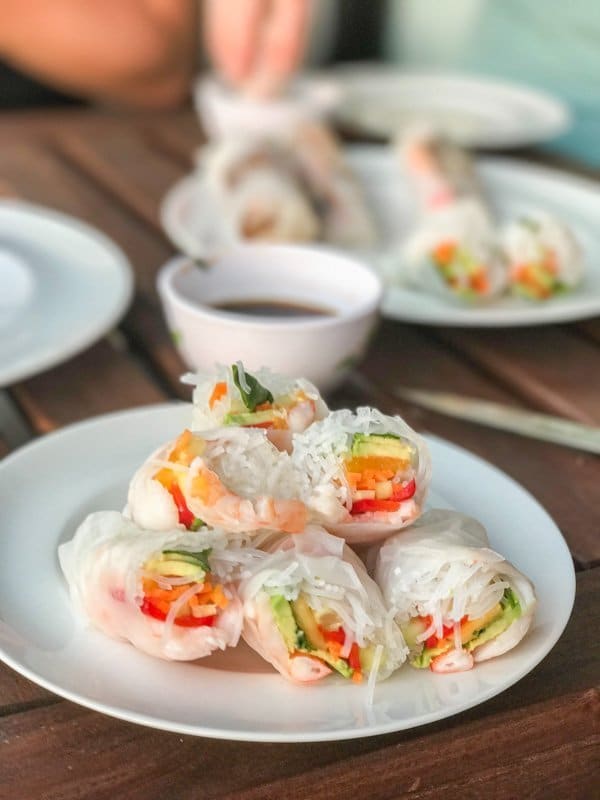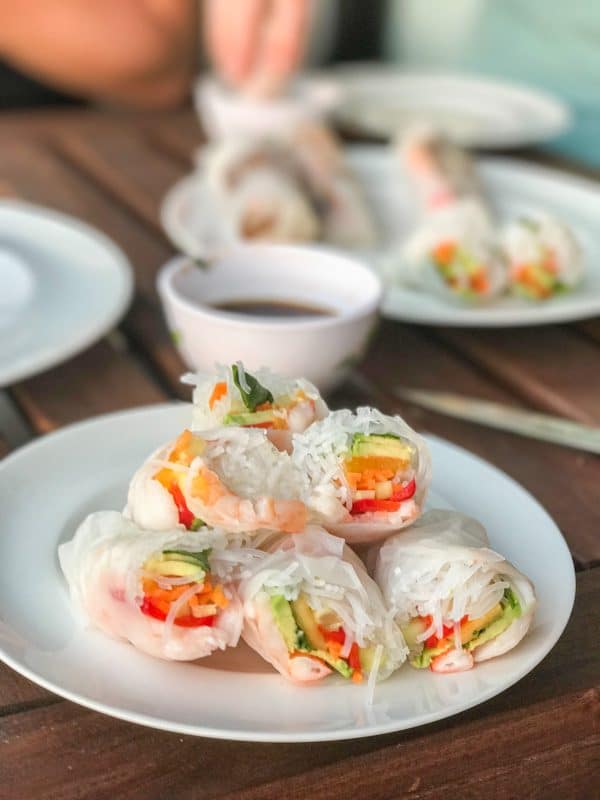 How do you use Vietnamese rice paper?
Rinse rice paper under water making sure to wet on both sides.
Alternatively, dip in a bowl of water for a few seconds to dampen.
Shake excess water off the rice paper.
Lay rice paper on a flat working surface such as a cutting board or flat plate.
Fill with filling of choice (noodles, veggies, herbs, and shrimp, chicken, or tofu).
Gently, but firmly, roll up, similar to rolling a burrito.
What to serve with Vietnamese Spring Rolls
Vietnamese Spring Rolls are generally on the bland side. Yes, the Serrano peppers do help spice things up a bit. However, you know I'm all about the flavor. For this reason, I highly recommend a dipping sauce.
I recommend making your own Peanut Dipping Sauce. Not to brag, but my homemade sauce is off the charts good. You'll want to pour it on everything!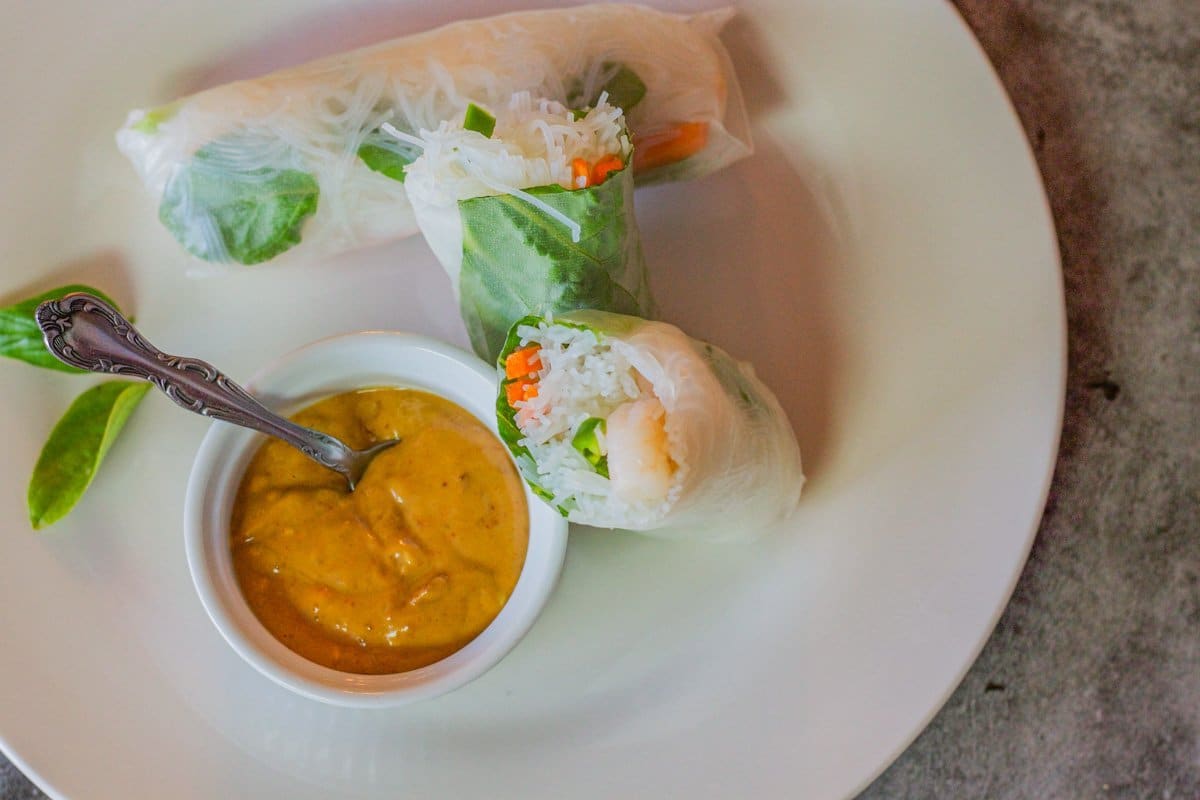 However, I know some of you prefer shortcuts, and I promise not to judge. If this is you, I do recommend San-J Thai Peanut Sauce, and House of Tsang Bangkok Peanut Sauce.
How to Make Vegetarian Spring Rolls
This recipe is super flexible! If you want to leave out the shrimp, it's easy to do! If you are a vegetarian, replace the shrimp with additional vegetables (purple cabbage, avocados, green onions, and julienned bell peppers).
Additionally, consider adding more herbs, cilantro, for example. You can also increase the number of noodles, and even add some seasoned, sautéed, and cooled tofu. Sesame oil would be a great option for sautéing the tofu.
Spring Rolls Rolling Instructions
You may also enjoy the following recipes: Oil and Vinegar Coleslaw, Healthy Broccoli Salad, Pineapple Chutney, and Balsamic Vinegar Glaze.
STAY IN TOUCH WITH ME THROUGH SOCIAL MEDIA!
Tried this recipe? Snap a picture and tag #hildaskitchenblog on Instagram. 
Like my page on Facebook.
Do you Pinterest? Pin & share this recipe!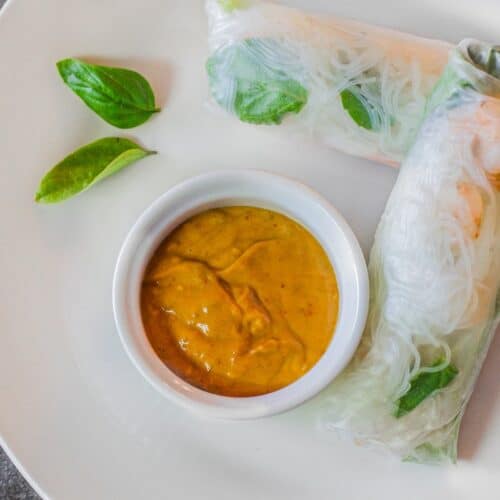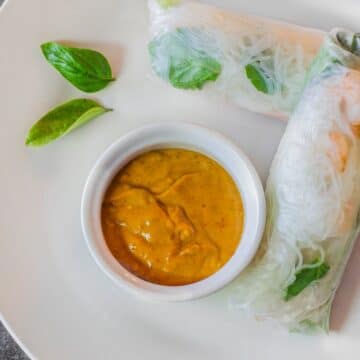 Vietnamese Spring Rolls Recipe
Healthy, light, and delicious Vietnamese Spring Rolls
Print
Pin
Rate
Servings:
10
Spring Rolls
Ingredients
½

tsp.

salt

10

oz

cooked shrimp

6.75

oz

rice sticks noodles (1/2 a package)

5

Romaine lettuce leaves

(ribs removed, cut in quarters)

1

Persian cucumbers

(julienned)

10

mini carrots

(julienned)

3

serrano peppers

(optional)

handful mint or basil leaves

10

spring rolls rice paper
Instructions
Bring a large pot of water to a rolling boil and stir in salt.

Add shrimp and cook for one minute, then remove shrimp with a slotted spoon.

Bring water back to a boil and add noodles. Cook for five minutes.

Remove noodles and rinse under cold running water, and drain. Cut into managable size (approx. 8" sections).

Julienne carrots and cucumbers, remove ribs from lettuce and cut into fourths. Slice serranos, if using.

Set up a work area with noodles, shrimp, veggies, and herbs.

Rinse rice paper under running water on both sides, for a few seconds. You can also dip in a pot of cold water for a few seconds.

Place wet rice paper on a cutting board, plate, or damp washcloth.

Add lettuce leaves, followed by carrots, and/or cucumbers to the bottom of the rice paper. Leave space on each sides to fold over the filling.

Top with a handful of noodles, shrimp, and a few mint or basil leave. Add serranos, if using.

Carefully pull the bottom of the wrapper up and over the filling until you're half way up the wrapper.

Fold both sides in (similar to rolling a burrito).

Continue rolling up until fully rolled. Repeat with the remaining ingredients.
Nutrition
Serving:
1
roll
|
Calories:
94
kcal
|
Carbohydrates:
18
g
|
Protein:
18
g
|
Fat:
0
g
|
Saturated Fat:
0
g
|
Cholesterol:
43
mg
|
Sodium:
300
mg
|
Fiber:
3
g
|
Sugar:
4
g