Edamame Dill Rice is my spin on a popular Assyrian rice recipe traditionally made with lima beans and dill. This rice is served alongside chicken and meat kabobs or eaten by itself as a vegetarian dish. I came up with the idea of adding edamame instead of lima beans one day when I didn't have lima beans on hand. To my surprise, it tasted even better! When I found out that edamame is lower in carbs than lima beans, I decided to stick with the new version of the recipe.
Nutritional Differences Between Edamame and Lima Beans
First of all, I want to make a distinction between edamame and soybeans. They are in fact the same. The difference is that edamame are harvested when they are young, while soybeans are picked when they mature. At that point, the nuts are seasoned and roasted.
Visual Differences Between Edamame and Lima Beans
Visually, shelled edamame and lima beans resemble one another, except lima beans, are larger and slightly flatter. As mentioned previously, edamame are lower in carbs than lima beans (15 grams vs. 31.47 grams), but let's see how else they stack up. If we compare one cup of each nutritionally, we find the following: Edamame are slightly higher in calories (189 vs. 176), lima beans are lower in fat (1.34 grams vs. 8 grams), edamame are also higher in protein (17 grams vs. 10.67 grams). Once I learned how these two beans stacked up, the choice was obvious; more edamame, please!
Edamame Dill Rice Serving Suggestions
Whether you decide to make this rice the traditional way (with lima beans), or my version (with edamame), the following serving suggestions still apply. If you are a vegetarian, this is a wonderful recipe because it contains an ample amount of plant-based protein. It would definitely be satisfying on its own. If you like meat, I recommend serving it with sumac chicken, kofta Kabobs, and shish kabobs. Some grilled vegetables or a green salad will round off the meal nicely.
Do you Pinterest? Please help a girl out by pinning & sharing!
---
Don't forget to check out my Classic Middle Eastern Food Combinations.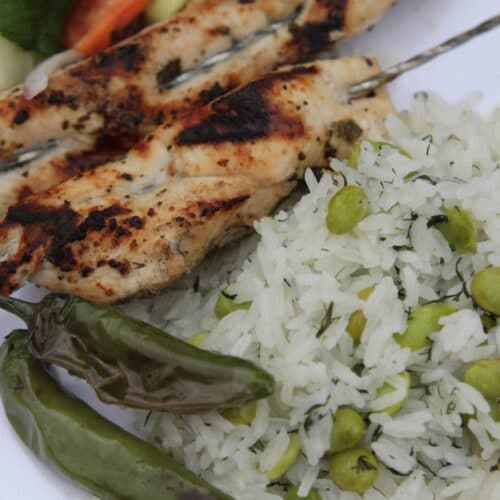 Middle Eastern Edamame Dill Rice Recipe
Delicious and healthy Middle Eastern Dill rice with edamame
Print
Rate
Ingredients
1

T.

butter

1

T.

vegetable oil

1/4

cup

fresh dill

1/2

cup

shelled edamame

1

cup

jasmine rice

1

cup

water

1

tsp.

salt
Instructions
Add butter and oil in a four quart Dutch oven.

Saute dill and edamame for a few minutes.

Rinse the rice and add it to the same pot. Stir for two more minutes.

Stir in the water and salt, then bring to a boil.

Cover the pot with the lid and simmer for twenty minutes. Stir a few times while it's cooking. Fluff with a fork before serving.
Nutrition
Calories:
284
kcal
|
Carbohydrates:
46
g
|
Protein:
7
g
|
Fat:
8
g
|
Saturated Fat:
2
g
|
Cholesterol:
8
mg
|
Sodium:
666
mg
|
Fiber:
1
g
|
Sugar:
0
g